The Mustard Seed Appeal
Matthew 13:31  He told them another parable: "The kingdom of heaven is like a mustard seed, which a man took and planted in his field.  32 Though it is the smallest of all seeds, yet when it grows, it is the largest of garden plants and becomes a tree, so that the birds come and perch in its branches."  Small donations given over time will grow our camp.  Plant now!

Luwisomo Riding Stable – Opens May 15

 Mother's Day Brunch Buffet – May 10
Friday & Saturday Dinners at the Banquet Hall

Retreats for Men and for Women
Get away from your daily routine for a weekend in the woods at Camp LuWiSoMo's Retreat Center, in Wild Rose Wisconsin.  Come relax, renew, and re-energize while enjoying great food, fellowship, and free time with "just the  guys" or "just the girls".  The weekend study will be "The Best Question Ever", drawn from Ephesians 5:15 and developed by Andy Stanley.  You will learn how to make the right choices in every decision you face by asking this one special question; it applies to every area of your life, no matter what stage of life you are in. "The Best Question Ever" will bring clarity to decisions involving your career, your finances, your friends, your family, and even your schedule.   This study has immediate practical applications to help you fool-proof the rest of your life!  So come, either by yourself or with friends or family members, to Camp LuWiSoMo for a weekend away that can change your perspective and your life. *note:  Men's and Women's retreats will be held on separate weekends.  Study Format: Video presentations accompanied by a study guide, followed by facilitated breakout sessions.
Camp LuWiSoMo Employment Opportunities 
LuWiSoMo Employment Application
Other News
Press Release: Camp LuWiSoMo, Inc. Buys Camp From SWD-LCMS

January 29, 2015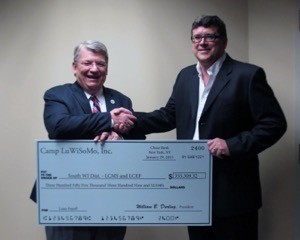 Reverend John Willie, President of the South Wisconsin District of the Lutheran Church, Missouri Synod (LCMS) accepts payment for Camp LuWiSoMo from James Knoerr, Chairman of the Board of Camp LuWiSoMo, Inc., a Registered Service Organization (RSO) of the LCMS. As an RSO, Camp LuWiSoMo, Inc. remains a not-for-profit organization under the auspices of the LCMS. It is open now to serve all LCMS churches, schools, and their communities.   The camp provides Opportunities for Outreach through youth camps, camps for developmentally disabled children and adults, family camping, outdoor education, year-round sports, horseback riding , and retreats. The camp is also available for special events such as weddings, family reunions, banquets, Christian concerts and community service projects. See the new camp website at www.luwisomo.org or call (920) 622-3350 for more information.
$50,000 Challenge Grant!
Thank you to all the generous contributors to the $50,000.00 Challenge Grant.  Camp LuWiSoMo, Inc. received donations of $36,000.00 from the fund raising appeal and therefore will receive $36,000.00 in matching funds from the 2 anonymous contributors of the challenge grant.
 –UPCOMING EVENTS–
May
1
Fri
Camp LuWiSoMo could not exist without its volunteers. 
Join other youth group volunteers and experience Camp LuWiSoMo with FREE meals and lodging while completing work projects to get the campground ready to open May 15th.  Some projects we need to do are: refurbish picnic tables, stack and haul wood, and rake out campsites. Your group can come to camp to work on Saturday, or stay over one or two nights of the weekend.
LuWiSoMo Spring Work Weekend is a great opportunity to organize a Thrivent Action Team and complete a project.  If your group or church has a Thrivent member, they can apply by April 10th to qualify for Thrivent Action Team assistance for these projects.  Contact us before April 10th for work project details to complete the Thrivent Action Team application online.  Please visit Thrivent.com/actionteam to learn more!
Youth can fulfill community service hours while volunteering for work projects at Camp LuWiSoMo.
 Call Camp LuWiSoMo to register your group one week ahead at (920) 622-3350.
View PDF of Youth Group Work Weekend